100% Customer Satisfaction Guaranteed! 24/7 Service- Open Sunday. No Extra Charge for One-Hour Emergency Service. Senior Citizen Discounts available.
Properly installed, well-functioning gutters are an important part of your home's moisture control system. When your gutters become clogged or damaged, they can't divert water as they should, which can cause damage to your roof, siding, and foundation. Our gutter repair experts at Allstars Masonry quickly assess your gutters to find and repair damage or perform gutter replacement when repair is no longer a cost-effective option. Fill out the form below or call us at 973-653-6853 to discuss your gutter repair and replacement concerns with our knowledgeable staff.
We provide a wide range of gutter services.
Gutter Repair
The first step to extending the life of your gutters is regular cleaning, but when your gutters are already damaged, gutter repair is typically more cost-effective than total gutter replacement. Excessive water running down the sides of your home, water flowing over or out of your gutters where it shouldn't, and puddles around your foundation are signs of gutter clogs and/or damage. Our experienced gutter technicians assess the extent of damage to your gutters to determine the ideal solution for you.
Gutters are relatively simple in design, so there are a limited number of ways they can fail. Some common issues we find causing gutter damage include:
Blockage from a buildup of natural materials like leaves and other debris
Sags caused by gutters leaning down or pulling away from your home due to a broken spike or hanger
Leaks from open joints or cracks due to corrosion or other damage
Improper pitch from poor installation or house settling
You may also have a split downspout caused by debris getting stuck on the way down. We replace the damaged downspout and elbow, which could correct leaks or other problems you're having with your gutters. No matter the issue, our expert gutter repair stops leaks and gets your gutters free-flowing again.
Gutter Replacement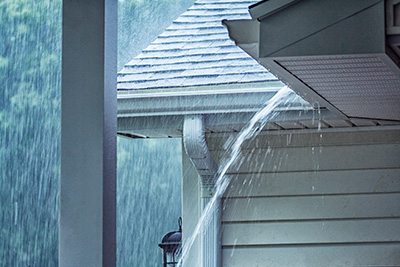 The primary function of your gutters is to collect rainwater from the roof and properly dispose of it on the ground, away from your home's foundation. When your gutters are failing, and you find yourself repeatedly needing the same repairs redone, it's time to consider gutter replacement.
Our gutter replacement professionals remove and properly dispose of your existing gutters. We match the precise length of your roofline, which provides a seamless installation and more accurate pitch. We connect new gutters to the existing fascia board with high-quality fasteners designed to withstand inclement weather. Our technicians use only the best materials and provide quality work at a reasonable price. Fill out the form below or call us at 973-653-6853 to ask about our gutter replacement options.
Gutter Installation
New gutter installation is an ideal solution when you need gutters where you previously had none or you want to upgrade gutters that still perform well, but you desire a fresh look. Gutters come in a wide variety of materials, colors, and custom fitting and fixtures, to perfectly match your home while diverting water as intended. When considering a new gutter installation, start by comparing material options, including:
Aluminum gutters, which are fairly weather-resistant, economical, and come in a vast array of colors that make them a highly popular choice.
Copper gutters, which are ideal for historic or high-value homes, but the most expensive option and difficult to maintain.
Stainless steel gutters, which are the most durable and withstand extreme weather conditions, but aren't a common choice for homeowners due to cost and upkeep.
The most cost-effective option that's gaining in popularity is vinyl gutters, which come in a wide range of colors that are generally fade-resistant. While vinyl gutters provide excellent curb appeal, they don't always hold up well in extreme temperatures. This is especially true of cold weather, which can make them fragile and vulnerable to cracking. Vinyl gutters are also prone to damage from high winds but are much cheaper to replace when damage does occur.
Gutter Repair And Replacement Experts
When your home requires minor gutter repair or complete gutter replacement, our gutter installation experts at Allstars Masonry proudly serve residential customers throughout New Jersey with quality work and reasonable prices you can count on. We're a fully licensed, bonded, and insured general service contractor with more than a decade of experience in home improvement. Contact us at 973-653-6853 to schedule an onsite appointment or fill out the form below to describe your gutter needs and request a free quote today.