100% Customer Satisfaction Guaranteed! 24/7 Service- Open Sunday. No Extra Charge for One-Hour Emergency Service. Senior Citizen Discounts available.
Do you have cracks in your chimney or suspect you may have a leak? Are you building a new home and need an expert to help you with the venting system? Whether you need a brand new chimney or just a few repairs, Allstars Masonry can professionally install, replace, or fix your commercial or residential chimney at an affordable price. Call 973-653-6853 to get a quote today.
Looking for a fully Licensed, Insured and Professional chimney services company?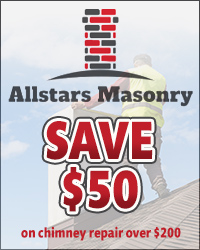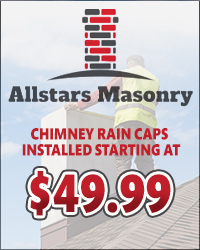 Do You Need a Chimney?
Chimneys are essential for venting hazardous gases and smoke from homes and commercial properties. If you have a furnace, boiler, incinerator, stove, or fireplace, you need a chimney to maintain indoor air quality. The venting system is also an important factor in the combustion process. The draft produced by your venting system is responsible for providing the oxygen that helps the fuel burn as well as moving the noxious gases up and out of the building.
Chimney installation and repair is not a DIY job. Besides adhering to local building code requirements, to do quality work, your chimney installer needs to understand how to match the size and materials of a venting system with the appliances it is being used with. They also need to be able to install a chimney that's sealed properly to prevent leaks.
Call 973-653-6853 to talk to one of our experts or fill in the form to get an estimate for chimney installation.
What Type of Chimney Do You Have?
If you already have a chimney and need a replacement or repairs, it should be simple to tell which of the two main categories of chimney you have. There are masonry chimneys, and there are metal chimneys. A masonry chimney can be made with a variety of materials, including brick, mortar, concrete, flue tiles, and cast iron or stainless steel. Metal chimneys may be made of aluminum and galvanized steel or they may be made from stainless steel for high-heat applications.
Whether your chimney is metal or masonry, Allstars Masonry will repair or replace it in a professional manner, adhering to local building codes and our own code of ethics, which places honesty with our customers first.
We're Experts at Chimney Installation and Repair
Because of the specialized nature of chimney construction, it can be intimidating to choose a contractor. When you speak with one of our chimney repair experts, you may hear them use some of the following terms.
Flue – The vertical structure that allows gases to exit the building.
Flue Cover (Chimney Cap) – Part that goes on top of the flue to prevent rain, snow, leaves, debris, and animals from entering the system. Also protects against downdrafts.
Chimney Chase – The structure built around a metal flue as it exits a roof. It protects the roof from flying embers and in many cases provides the look of a masonry chimney.
Mortar – The material that holds bricks, stones, and other masonry building blocks together.
Crown – The top part of the chimney that's made of cement. It is critical for keeping water out of the system.
Cap Flashing – A strip of metal that's used to prevent water getting into masonry joints and the upturned edges of base flashing on a roof.
Base Flashing (Apron Flashing) – The bottom piece of a watertight flashing system. It's installed at the base of where the chimney meets the roof.
Step Flashing – The system of metal pieces and shingles installed on the slope where the chimney meets the roof.
Call Today for Professional Chimney Installation or Repairs at an Affordable Price
If you're looking to install, replace, or repair your chimney anywhere in North or Central NJ, Allstars Masonry should be your first call. You can speak to one of our chimney experts today by calling 973-653-6853, or you can get an estimate by filling in the form and letting us know more about your project.